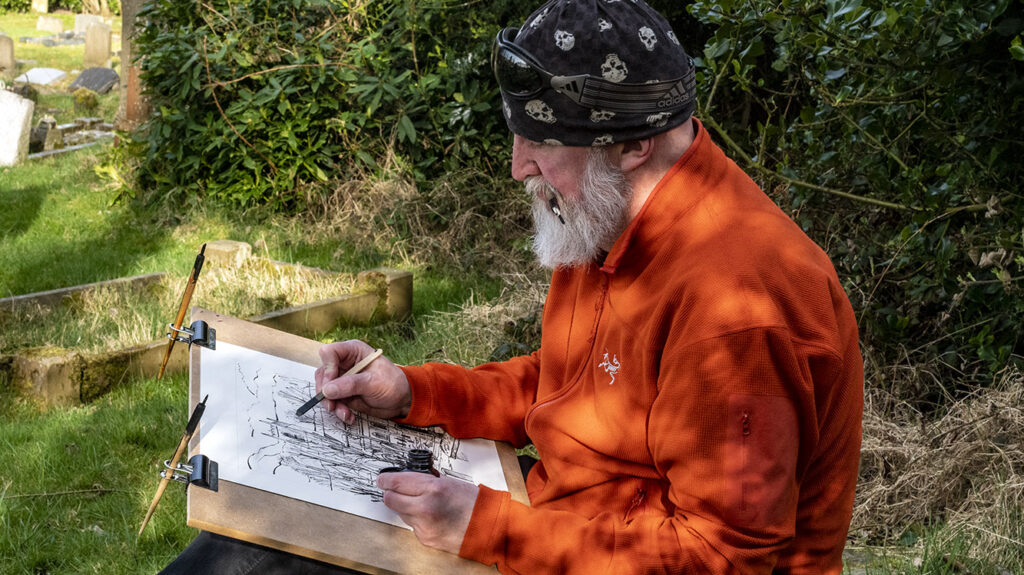 Art is awareness, thinking, drawing.
Art creates connection.
Art kindles emotion.
Art is my core.
I was 15 when art teachers sent my work to an art school in London. They offered me a place but I was too young to head to London solo.
I carried on drawing, found my culture in the emergence of punk rock, became an engineer and enjoyed life.
At 20 I moved away from engineering to an art foundation course. I felt a connection with the graphic designers in the counter-culture of the time: Jamie Reid, graphic artist for the Sex Pistols; Peter Saville, graphic artist for Factory Records. A lecture in Manchester by the late, truly great, Milton Glaser, showed me that graphic design was an artistic approach to life – and you could have an engaging career in the process.
And that's what I've had.  For three decades I've run my own successful graphic design studio – but the passion for art pushed itself back to the centre of my life as I recovered from a quadruple heart by-pass in 2017.
Through recovery walks, I've re-engaged with my surroundings in the Southern Pennines. Whatever the season, whatever the weather, I capture the vibrancy of the landscape with graphic, spontaneous marks, using sharpened matchsticks and lollipop sticks dipped in Indian ink to record what has fired my imagination. It's impromptu, swift.
Back in my studio, inspired by my sketches and photographs, I paint quickly in watercolours, acrylic and mixed media – whatever expresses the essence of what I have seen that day. The bold, bright, liminal influence of David Hockney is there, along with that of David Bomberg, John Nash and Rowland Hilder, bringing a mixture of colour, draughtsmanship and emotional response to the work.
Music is essential – it's always playing while I work. There's plenty of punk – but I have eclectic tastes these days and it's as likely to be Debussy as The Clash.
My art is my response to the world around me. It's the way I celebrate the chaos.