Fritz Fitton - Original Art & Prints

Sunshine After Rain is a limited edition pack of six greetings cards. Click the image above to see the cards ...
Purchase

Here comes the rain Low Gate Lane, Castleshaw Upper Reservoir I set out early one wet morning to paint a ...
Purchase

Moorland Heather - Alderman's Hill above Dovestones Reservoir Looking along the ridge of Board Hill and Dick Hill. Dovestone Clough ...
Purchase

Anyone for ice cream? Early morning light at Ward Lane (Lock 31W) on the Huddersfield Narrow Canal in Diggle. Also ...
Purchase

Evening sunlight. Walking down Dark Lane towards Delph from St Thomas' Church, Delph Heights. Edgehill is a Grade II listed ...
Purchase

Braving those angry skies. St Thomas' Church, Delph Heights. The churchyard contains the war graves of a Royal Scots Fusiliers ...
Purchase

St Chad Saddleworth – Parish Church. On April 2nd 1832 a landlord and his gamekeeper son were violently murdered at ...
Purchase


Slushy underfoot - West View on Slack Lane above Delph. The snow came down fast and then melted just as ...
Purchase

Walking past the disused dairy on Slack Gate Lane looking towards Christ Church Denshaw. Pen and ink, drawn just as ...
Purchase

Drifting snow on Heights Lane, Delph. Drawn very early yesterday, before it turned to rain ...
Purchase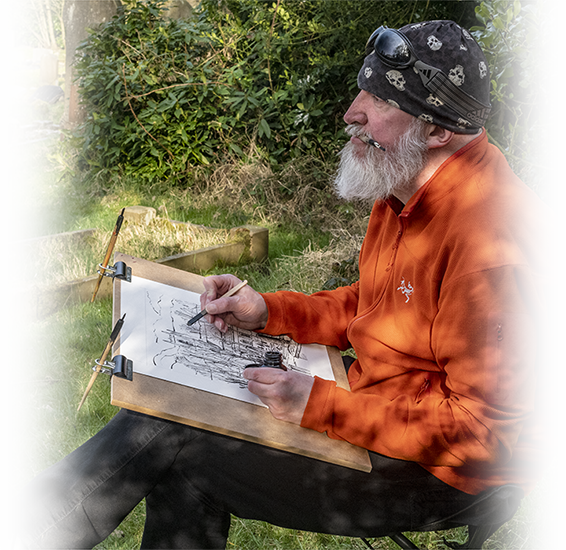 Hello.
I'm Fritz Fitton.
I embrace the chaos in most things – clouds, music, health, life.
Chaos came for me in 2017 as I blacked out at the wheel of a moving car, survived the inevitable crash and woke to discover I needed a quadruple heart by-pass.
The chaos that episode created has brought me full circle.
After a successful career in graphic design, I've returned to my first love – art.
Art energises me, it excites me and I want to share that with you.